Review: Darok 9 by H.J. Ralles
By Kelly Hoffman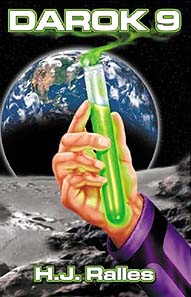 H.J. Ralles is the author and creator of this science fiction book for kids. However, Darok 9 certainly can hold its own in the adult world as well. This very entertaining book is hard to put down. Once you start reading it you just want to know how it will end. Filled with action and surprises around every bend this book keeps your attention.
Darok 9 is set in the no so terribly distant future of 2120. The setting is a settlement on the moon. Humans were forced to leave the earth after a devastating nuclear war, but the fighting has not stopped and the hardships continue.
It is up to Hank Harvard, a young scientist to find the answer to the shortage of water with his top secret formula, SH33. His task is made even more difficult by the attacks and the danger he has placed his family in. Can Hank find the answer before his nephew falls deathly ill? Who is behind the plot to steal his formula? Can war be diverted? Or will humans finally do themselves in?
While, Darok 9 is certainly written for the younger generation sci-fi fans of any age will find this story entertaining and delightful. My only concern about the book is the glorification of computer hacking. In these very trying times where kids know more about computers than most adults is it really wise to let them think it is a courageous act to hack into government computers? All in all it is an interesting look into what life on the moon could be. And I look forward to reading H.J. Ralles' other book, Keeper of the Kingdom.
Pick up a copy of Darok 9 by H.J. Ralles at Amazon.com and find out what all the fuss is about.
Be sure to check out all the titles by H.J. Ralles!
and coming soon ... Darok 10
---