TONY HARRIS ENTERS THE QUICKENING
Award-Winning Artist Now Regular Highlander Cover Artist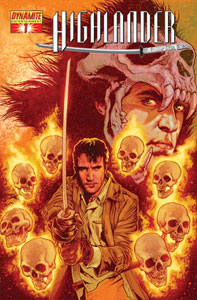 August 18, 2006, Runnemede, NJ – DYNAMITE ENTERTAINMENT announced today that Eisner Award Winning artist Tony (Conan, Ex Machina) Harris was joining the creative team as series cover artist for DYNAMITE's all-new HIGHLANDER Comic Book Series.

"We're thrilled that Tony is able to make Highlander a regular gig with us, and that he's joining Dave Dorman as our ongoing cover artists," exclaimed DYNAMITE SPOKEPERSON J. ALLEN. "We'll be working with other artists here and there as the series progresses, but Tony and Dave are our official "anchors". As for Mr. Tony Harris, we've been big fans of his going back to the Starman days and the Conan covers always kick all sorts of butt. We have two covers in from him so far for HIGHLANDER and each rocks and rocks hard!"

"I was so thrilled when DYNAMITE asked for me to come aboard the Highlander franchise," explained Tony Harris. "I have always loved the movie and Chris Lambert has such an intense face that the covers have been a blast to work on."

Dynamite recently debuted HIGHLANDER with an introductory priced #0 issue to strong sales, as well as worked with TV Guide to feature the title in their pages. Issue #1 goes on sale in October, look for PRE-Order information in the coming weeks. HIGHLANDER #0 goes on sale in July!

ABOUT TONY HARRIS:
Tony Harris, a co-founding member of Jolly Roger Studio, rose to prominence during his four-year stint penciling and painting covers for DC's critically acclaimed Starman. He won an Eisner Award in 1997 for best serialized story, Sand and Stars.

In addition to his ongoing cover assignment for Dynamite's Highlander series, Tony is the artist and co-creator of Ex Machina (with award-winning writer Brian K. Vaughan) as well as the cover artist for Dark Horse's Conan comic book series.

Tony can be found online at: http://www.jollyrogerstudio.com
ABOUT DYNAMITE ENTERTAINMENT:
DYNAMITE ENTERTAINMENT was founded in 2004 and is home to several best-selling comic book titles and properties. Beginning with their ARMY OF DARKNESS comic book series – launching as the #1 independent comic in July of '04 – and recently ranked the #1 selling Independent Horror comic -- and continuing with their best-selling RED SONJA series – issue #0 alone selling over 240,000 copies and ongoing issues and one-shots consistently ranked among the best-selling titles in unit sales and dollar volume outside of Marvel and DC Comics -- DYNAMITE successfully places more titles in the Top 100 than most non-Marvel, non-DC publishers. Most recently DYNAMITE's new monthly BATTLESTAR GALACTICA series debuted with an impressive 175,000 copies in initial orders sold for the introductory #0 issue, and was featured in the pages of TV Guide. Additionally, the introductory HIGHLANDER #0 debuted with over 100,000 copies pre-sold and was featured in a follow-up article in TV Guide as well.

For the remainder of 2006, DYNAMITE is preparing a CLASSIC BATTLESTAR GALACTICA comic book series from writer Rick Remender and artist Carlos Rafael, XENA by John Layman and Fabiano Neves, a DARKMAN VS. THE ARMY OF DARKNESS mini-series and THE LONE RANGER with Brett Matthews, Sergio Cariello, Dean White and John Cassaday – and DYNAMITE has more on the horizon!

In addition to the creators mentioned - Dynamite works with some of the most high profile creators in comics, including Alex (Justice) Ross, John (Astonishing X-Men) Cassaday, Michael (Superman/Batman, Aspen Comics) Turner, Jim (All-Star Batman) Lee, Michael (RED SONJA) Avon Oeming, Mel (RED SONJA) Rubi, Stephen (RED SONJA) Sadowski, Mike (RED SONJA/X-Men) Carey, Jim (Justice) Krueger, Greg (The Incredible Hulk) Pak, Brett (Serenity, THE LONE RANGER) Matthews – and a host of up and coming new talent and fan favorite creators!

Aside from their monthly periodical comic book series, DYNAMITE also produces new and classic material from such creators as Paul Gulacy and Doug Moench's SIX FROM SIRIUS, Tim Truman's SCOUT, Carlos Trillo and Eduardo Risso's BORDERLINE and other titles including Jim Starlin's DREADSTAR, in addition to reprint editions of classic RED SONJA material, ARMY OF DARKNESS and more.

For updated information on DYNAMITE ENTERTAINMENT and their titles, please visit the all-new DYNAMITE website at www.dynamiteentertainment.com

ABOUT DAVIS MERCHANDISING CORP
Davis Merchandising Corp, a multi-award winning global turnkey organization, partnered with Davis-Panzer Productions, Inc., provides merchandising, product development, manufacturing and direct marketing of quality licensed entertainment properties sold direct-to-consumer through catalog, Internet, television, print and inbound/outbound telemarketing. They host eCommerce stores and create print catalogs for properties such as: HIGHLANDER® (Film and TV series), Stargate SG-1™ and Atlantis™, Xena: Warrior Princess™, Hercules: The Legendary Journeys™, and Conan®. For additional information, visit www.davismerchandising.com.
---
HIGHLANDER #0 SALES ARE "DYNAMITE"!
Issue #0 Tops 100,000 Ordered, Lone Ranger Preview To Be Added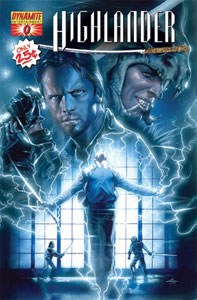 June 15, 2006, Runnemede, NJ – Dynamite Entertainment announced today that initial orders from retailers have exceeded 100,000 copies for their launch of the all-new, ongoing Highlander comic book series. The series kicks off with an introductory priced #0 issue, for which Dynamite will set the print run above these initial orders to meet the anticipated demand. Issue #0 is scheduled to arrive in stores in July. The company also announced it will add a special preview of Lone Ranger #1 to the Highlander #0 comic.
"Thank you to the fans and retailers who have supported our launch, and who have allowed us to have sales in the stratosphere near a high selling Marvel or DC Comic! And as a bonus, we are placing in a preview of Dynamite's upcoming Lone Ranger #1. We had hoped to get the preview of Lone Ranger #1 into Galactica #0, but the timing did not work out, so now we've added it to Highlander #0 and fans can check it out," explained Dynamite Spokesperson J. Allen. "Our introductory issue for Highlander leads right into issue #1, so fans should plan on picking up #0 and get ready for #1 in October! We'd like to again thank all of the fans and retailers for their continued support of Dynamite and our comics!"
Look for Highlander #0 at your local comics shop in July!
HIGHLANDER #0 (MAY063024): WRITTEN BY BRANDON JERWA AND MICHAEL (RED SONJA) AVON OEMING WITH ART BY LEE MODER AND COVER ART BY GABRIELE DELL'OTTO (50%), AND A HIGHLANDER PHOTO COVER (50%)
Featuring events that start off shortly after the first film, Connor MacLeod, the Immortal Highlander, finds himself in the middle of a present day reunion that takes him back to Berlin, right after the events of the Second World War! During the "Coldest War" Connor comes up against the Kurgan and the cadre of highly trained super-assassins who follow him.
Issue #0 leads directly into issue #1 of this all-new, ongoing series! Featuring a painted cover by Gabriele Dell'Otto, plus a Highlander movie photo cover and written by Brandon Jerwa w/Michael Avon Oeming with art by Lee Moder!
---
HIGHLANDER #0 AND XENA #1 PREVIEWED IN TV GUIDE
Millions To Be Exposed To Two New Comic Book Series From Dynamite
July 5, 2006, Runnemede, NJ – Dynamite Entertainment announced today that TV Guide is offering another exclusive sneak peak of two all-new comic book series from Dynamite – Highlander #0 and Xena #1!
In cooperation with Universal, Davis Merchandising and TV Guide, Dynamite's Xena #1 and Highlander #0 will be featured in the July 10th cover dated issue (in stores Thursday July 6th). Previewing the two series follows the successful "first look" that Dynamite provided to TV Guide of their all-new Battlestar Galactica #0 series in May.
The exposure of the comics is expected to reach millions of TV Guides weekly readers, and through it give additional exposure to Xena and Highlander.
"We would like to thank our friends at TV Guide for the additional promotion on these two series. After we worked out the details for the Galactica #0 promotion, we started pitching new promotions to TV Guide and we're thrilled they took us up on spotlighting Xena and Highlander. Both had great runs on TV – Highlander and Xena both being modern classics – and both new comic book series honor the past of both, while presenting new visions for today's readers. Though the preview will hit before the comics are in stores, this should help bring attention to direct market retailers, which benefits the comics industry, and is something we can all keep working towards. We ask that comics fans and retailers once again show their support TV Guide by picking up and carrying this issue," explained Dynamite Spokesperson J. Allen. "
Xena #1 (MAY063032) is written by John Layman with art by Fabiano Neves. Cover art is provided by Billy "Uncanny X-Men" Tan, Fabiano Neves, and a special Photo Cover from the Xena television series.
The first story arc is the perfect place to start for fans both old and new as Xena and her familiar friends (along with the appearance of some familiar enemies) are played as pawns in a battle between the Gods!
---
---