Star Trek The Animated Series Logs Three and Four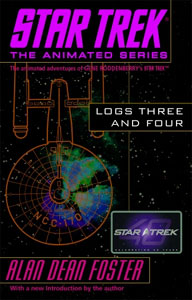 Written by Alan Dean Foster
Fiction - Science Fiction
Trade Paperback, 416 pages
$13.95
"SPACE. THE FINAL FRONTIER . . . These are the voyages of the Starship Enterprise™." Celebrate the fortieth anniversary of Star Trek® with the original mission logs chronicling some of the crew's most bizarre missions and strangest encounters with alien races across the galaxy . . . where no man has gone before™.
Once Upon a Planet
Ready for a holiday, the Enterprise crew returns to the planet of fantasies expressly designed to make every wish come true. But the resort has become a mad dream world where nightmares are hideously real.
Mudd's Passion
When space scoundrel Harry Mudd is arrested and brought aboard the Enterprise, he subjects the crew to a liquid-crystal love potion–with devastating results.
The Magicks of Megas-tu
After penetrating the very heart of the galaxy, Kirk and his crew confront a strange half-man, half-goat creature, who introduces the Enterprise to a fantastic world of good . . . and evil.
The Terratin Incident
A garbled distress signal leads the Enterprise to certain doom in a fiery mass of radiant particles–as all living matter begins to shrink to nothingness, including Kirk and his crew.
Time Trap
A Klingon attack on the Enterprise causes both ships to disappear into the Delta Triangle, a dead-end time warp of lost ships. Escape is impossible– unless sworn enemies Kor, the Klingon leader, and Kirk work together.
More Tribbles, More Troubles
After saving a Federation scout ship from Klingon attack, Kirk also rescues Cyrano Jones and a pile of tribbles. Jones insists that these tribbles don't multiply–but they do grow bigger, and bigger, and bigger.

Star Trek - The Animated Series - The Animated Adventures of Gene Roddenberry's Star Trek is also available on DVD. Buy the Books and the TV series to get the full Star Trek animated experience!
Let us know what you think about this book. Sign up and review/rate this book.
---
Related Articles:
Official Site: www.delreybooks.com ~ www.startrek.com
About the Author
Alan Dean Foster has written in a variety of genres, including hard science fiction, fantasy, horror, detective, western, historical, and contemporary fiction. He is the author of the New York Times bestseller Star Wars: The Approaching Storm and the popular Pip and Flix novels, as well as novelizations of several films including Star Wars, the first three Aliens films, and Alien Nation. His novel Cyber Way won the Southwest Book Award for Fiction in 1990, the first science fiction work ever to do so. Foster and his wife, JoAnn Oxley, live in Prescott, Arizona, in a house built of brick that was salvaged from an early-twentieth-century miners' brothel. He is currently at work on several new novels and media projects.
About Del Rey
Del Rey Books was founded in 1977 as a division of Ballantine Books under the guidance of the renowned Judy-Lynn del Rey and her husband, Lester del Rey. Del Rey publishes the best of modern fantasy, science fiction, alternate history and manga. Ballantine Books is an imprint of Random House Publishing Group, which is a publishing group of Random House, Inc, the U.S. publishing company of Random House, the trade book publishing division of Bertelsmann AG, one of the world's leading international media companies.
---
---
CBS Consumer Products, a unit of CBS Enterprises, manages the worldwide licensing, merchandising and video activities for diverse slate of properties owned or controlled by the CBS Corporation.
(r) & © 2006 CBS Studios Inc. All Rights Reserved. Star Trek and related marks are trademarks of CBS Studios Inc.