Season of the Witch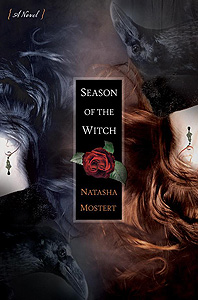 Gabriel Blackstone is a cool, hip, thoroughly 21st Century Londoner with an unusual talent. A computer hacker by trade, he is - by inclination - a remote viewer; someone whose unique gifts enable him to see into the thought processes of others.
But he only does this with the greatest reluctance - until he is contacted by an ex-lover who begs him to use his gift to find her step-son, last seen months earlier in the company of two sisters.
And so Gabriel visits Monk House in Chelsea, a place where time seems to stand still. Its living room is filled with the perfume of roses, African masks line the walls and everywhere - on doors, on walls, on ceilings even - the mysterious coded symbol of cross and circle dominates.
As the dog days of summer turn into a cold and hostile winter, Gabriel becomes increasingly bewitched by the house, and by its owners, the beautiful, enigmatic Monk sisters - one of whom is a deadly killer, and who will stop at nothing to protect a terrifying secret that is as old as time itself.
---
From the publisher:
SEASON OF THE WITCH is an extraordinary gothic novel that takes on big themes - love, death, alchemy, the power of the human mind to transform and transcend reality - and wraps them in a thriller narrative that will beguile and entrance all who turn its pages.
---
Biography for Natasha Mostert:
Natasha Mostert is South African. Educated in Johannesburg and New York, she holds graduate degrees in lexicography and applied linguistics, and has worked as an academic and journalist. She now lives in London with her husband. www.natashamostert.com

---
Season of the Witch Official Site: http://www.seasonofthewitch.com
Natasha Mostert's MySpace Page: http://www.myspace.com/natashamostert
Contest:
Season of the With game in which your readers can win a signed copy or an Ipod! http://www.seasonofthewitch.com/books/sotw/gates and each week the player with the fastest time will receive a signed copy of the book, and the over all fastest time will receive the Ipod! ends Dec. 20, 2007

---
Let us know what you think about this book. Sign up and review/rate this book.
---
---