Roads by Seabury Quinn back in
print in Facsimile Reprint Edition from Red Jacket Press.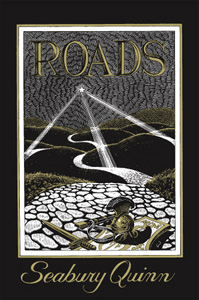 Available NOW!
Red Jacket Press is pleased to announce a new addition to our ongoing series of limited edition facsimile reproductions of vintage SF and Fantasy classics: the 1948 Arkham House edition of "Roads" by Seabury Quinn, featuring beautiful illustrations by the legendary fantasy artist Virgil Finlay.
Drawing upon the legends that coalesced over centuries into the familiar, jolly form of Saint Nicholas, Seabury Quinn weaves a surprising new origin for this most beloved of children's icons. "I have not tried to paint the portrait of a man," he wrote, "but merely to present a personality and hazard a guess as to the motivation that makes Santa Claus the wondrous figure he is — a figure who more than any other exemplifies the beauty of selflessness."
First published in the January 1938 issue of Weird Tales (and released later that same year as a highly limited edition pamphlet), "Roads" reappeared ten years after its initial publication as a handsome hardcover book from groundbreaking speculative fiction publisher Arkham House, an edition which featured illustrations by Virgil Finlay.
This re-imagining of Santa Claus was selected by authors James Cawthorn and Michael Moorcock as one of the 100 Best Fantasy Books, and has been hailed by genre historian Sam Moskowitz as "the greatest adult Christmas story written by an American."
Further information on "Roads," information on author Seabury Quinn and illustrator Virgil Finlay, and a brief excerpt are available at redjacketpress.com. (More information on Arkham House is available at http://www.arkhamhouse.com/about.htm.)
This limited edition facsimile reprint volume is a complete and detailed reproduction of the original 1948 Arkham House first edition, fully authorized by Arkham House Publishers, and packaged in a deluxe gift box that includes a booklet with biographical information about the author and illustrator. The dust jacket and gift box both feature the beautiful metallic gold ink of the original Arkham House edition.
"Roads" is priced at $29.95, and is now available for order direct from the publisher at http://www.redjacketpress.com, or anywhere fine books are sold.
---
---