The Physics of the Buffyverse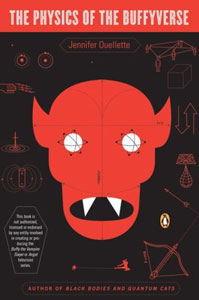 Written by Jennifer Ouellette
Published by Penguin Books
December 2006;$15.00US/$18.50CAN
ISBN 978-0-14-303862-7
Welcome to the Weird and Wonderful World of the Buffyverse
The Buffyverse is an undeniably bizarre place -- a world where the melding of magic and science is a defining feature, and mystical convergences and otherworldly phenomena are everyday occurrences.
Through examples from the hit TV show Buffy the Vampire Slayer and its spin-off Angel -- and the vampires, demons, witches and interdimensional portals therein -- acclaimed science writer Jennifer Ouellette explains complicated principles of biology, chemistry, and theoretical physics.
From electricity, conservation of energy, and special relativity to wormholes, black holes, and string theory, The Physics of the Buffyverse provides a serious shot of science for those who prefer their physics with a pop-culture chaser.
Author
Jennifer Ouellette is the author of Black Bodies and Quantum Cats: Tales from the Annals of Physics. A member of the National Association of Science Writers and Author's Guild, she is associate editor of APS News, the monthly membership publication of the American Physical Society.
Her work has also appeared in Discover, Salon, and New Scientist, among other venues, and she maintains a blog called Cocktail Party Physics. She has covered such varied topics as the acoustics of Mayan pyramids and New York City subways; fractal patterns in the paintings of Jackson Pollock; and the precarious pitfalls of pseudoscience. Her article on concert hall acoustics for The Industrial Physicist garnered an award in science writing from the Acoustical Society of America.
An avid fan of Buffy the Vampire Slayer since the series premiered in 1997, she holds a black belt in ju-jitsu and lives in Washington, DC. Visit her on the Web: www.jenniferouellette-writes.com and www.twistedphysics.typepad.com/cocktail_party_physics.

Let us know what you think about this book. Sign up and review/rate this book.
---
---