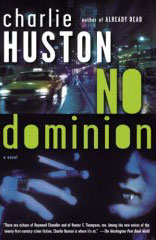 No Dominion A Novel
Written by Charlie Huston
ABOUT THIS BOOK
Joe Pitt's life sucks. He hasn't had a case or a job in God knows how long and his stashes are running on empty. What stashes? The only ones that count to a guy like Joe: blood and money. The money he uses to buy blood; the blood he drinks. Hey, buddy, it's that or your neck–you want to choose? The only way to lay his hands on both is to take a gig with the local Vampyre Clan.
See, something new is on the streets, a new high, a high so strong it can send a Vampyre spazzing through Joe's local watering hole. Till Joe sends him through a plate-glass window, that is.
So it's time for Joe to gut up and swallow that pride and follow the leads wherever they go. It won't be long before he's slapping stoolies, getting sapped, and being taken for a ride above 110th Street. Someone's pulling Joe's strings, and now he's riding the A train, looking to find who it is. He's gonna cut them when he finds them–the strings and the hands that hold them.
QUOTES
"Among the new voices of the twenty-first-century crime fiction, Charlie Huston . . . is where it's at." –The Washington Post Book World
"[Charlie Huston is] a Bowery-bred Bram Stoker. . . . Joe Pitt is the sort of hard-boiled, one-liner-shooting character that readers of black-coffee detective novels and modern vampire fiction should embrace with a vengeance." –The Examiner (Alexandria, Virginia)

Let us know what you think about this book. Sign up and review/rate this book.
---
About Del Rey
Del Rey Books was founded in 1977 as a division of Ballantine Books under the guidance of the renowned Judy-Lynn del Rey and her husband, Lester del Rey. Del Rey publishes the best of modern fantasy, science fiction, alternate history and manga. Ballantine Books is an imprint of Random House Publishing Group, which is a publishing group of Random House, Inc, the U.S. publishing company of Random House, the trade book publishing division of Bertelsmann AG, one of the world's leading international media companies.
---
---