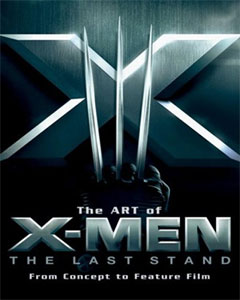 THE ART OF X-MEN: THE LAST STAND
From Concept to Feature Film
Foreword by Brett Ratner
Graphic Book Details Secrets Behind Box-Office Smash with 360 Illustrations, Filmmaker Commentary, History of the X-Men, and Exclusive Behind-the-Scenes Materials.
The only book on the creation of the blockbuster movie, THE ART OF X-MEN: THE LAST STAND—FROM CONCEPT TO FEATURE FILM (Newmarket Press, 160 pages, $19.95 paperback/$29.95 hardcover, Pub Date: May 26, 2006) is a fascinating visual companion presenting an exclusive look into the preparation and production of the climax in the X-Men motion picture trilogy.
The lavishly illustrated, full-color moviebook boasts more than 360 illustrations, including striking movie stills, full-page photos of 16 key characters, special effects shots, unique production artwork, set designs, concept drawings, costume sketches and storyboards. An exclusive foreword by director Brett Ratner provides commentary about the production of the movie, and a history of the X-Men by comics historian Peter Sanderson, highlighted by archival Marvel comic-book art, chronicles the journey of the mutants from the page to the screen.
"The X-Men have always dealt with prejudice and persecution," writes director Brett Ratner in his foreword. "But now, they have to decide: Is conformity an antidote to prejudice? Is it cowardice to give up individuality in order to fit in? Do the ends justify the means? Is great power a blessing or a curse? All of these questions resonated with me."
In the book's Part One X-Men: From Comic to Screen, comics historian Peter Sanderson traces the history of the X-Men from the first issue of the comic book in 1963 to the release of X-Men: The Last Stand in 2006. Along the way he describes X-Men creator Stan Lee's inspiration for the comic, the characters' mutant powers, their relationships, their evolution over the years, and the social significance of the series.
The book's Parts Two, Three, and Four follow the three sections of the movie (The Cure, The Brotherhood, and The Last Stand), illustrating the film's spectacular production through hundreds of film stills, behind-the-scenes photos, Marvel comic strips, storyboards, production sketches, and computer generated images. Interspersed throughout is commentary by X-Men creator Stan Lee; cast members Hugh Jackman, Halle Berry, Ian McKellen, Famke Janssen, Kelsey Grammer, Ben Foster, and Daniel Cudmore; producer Avi Arad; associate producer David Gorder; production designer Ed Verreaux; and costume designer Judianna Makovsky.
A rare treat for fans of X-Men, THE ART OF X-MEN: THE LAST STAND is the true companion to the final chapter in the motion picture trilogy.
---
---