Review: VideoHound's Sci-Fi Experience
By Kelly Hoffman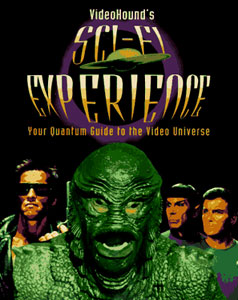 VideoHound's Sci-fi Experience: Your Quantum Guide to the Video Universe by Carol Schwartz is an excellent reference of anyone interested in genre films. The book is published by Visible Ink Press and available in any bookstore for approximately 20 US$.
The book is easily laid out alphabetically from A to Z, starting with Abbott and Costello Go to Mars and ending with Zonatar, The Thing From Venus and filled with everything in between. But that's not all. Each film is reviewed and giving a rating - according to the VideoHound's likes and dislikes as well as black and white photos throughout. See how they rate your favorite film and find out why they give Flesh Gordon a 2 1/2 out of 4 bones rating. Paging through the book you will easily find films you never heard of and some you'll definitely wish to see. All you'll have to do is track them down on video or DVD. Each listing is complete with film release date, actors, directors and available formats (at the time of publishing).
Want to know all the sci-fi films a director has worked on? Easy enough with the director index. There is also a category listing in case you want to search for your favorite science fiction prison film in the book's category index.
The Sci-fi Experience is just packed with information. Such as an alternate title index (in case you cannot find your favorite film try looking here to see if it was released as something else).
There is also a sci-fi connections area with listing for websites (many of which you will find here), newsletters and fanzines, conventions, fanclubs and other worthwhile science fiction related books. In the event that you are having trouble finding that one particular movie on VHS or DVD there is even a distributors list and guide with names and address of distributors to help aid you in finding that long lost classic sci-fi film.
While some of the information in the book might be out of date (such as dead web links, long out of business distributors and films listed as available in BETA format) this is still an excellent resource and a welcome addition in any film enthusiasts library. We look forward to an updated version with more films and DVD listings.
---
Also available from Visible Ink is: VideoHound's Complete Guide to Cult Flicks and Trash Pics (Check out Sci-Fi Slacker's review of this book) and VideoHound's Horror Show: 999 Hair-Raising, Hellish and Humorous Movies (Check out Sci-Fi Slacker's review of this book).
---
---
Discuss this on our Message Boards.
New Members Please Register | Returning Members Enter