STAR TREK: NEMESIS SOUNDTRACK By Jerry Goldsmith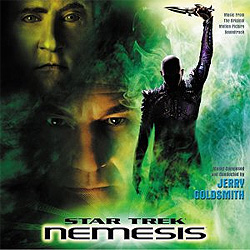 Alexander Courage may have given the sprawling Star Trek franchise its signature musical fanfare, but for two decades it's been composer Jerry Goldsmith who's periodically infused the film and TV cycles with their crucial musical heart and soul or, as in the case of this rousing masterwork, their fire and fury. Giving nearly free reign to his notably modernist muse, the veteran has turned in a dark and driving orchestral maelstrom that's relieved only by its edgy, occasionally synth-burnished passages of alien intrigue and mounting suspense. Underpinned by bracing blasts of massive brass worthy of Bernard Herrmann and powered by Goldsmith's passionate sense of drama and mastery of orchestral color and dynamics, it's a score that not only ranks among the best of the imposing Trek musical catalog, but certainly one of the composer's most accomplished sci-fi scores of the last 20 years. --Jerry McCulley [amazon.com]

---
THIS DECEMBER A GENERATION'S FINAL JOURNEY BEGINS!
The most anticipated STAR TREK film in years! Advance word on NEMESIS has STAR TREK fans around the world ecstatic about the latest voyage of the Starship Enterprise. The Federation is about to encounter its greatest challenge — The Romulans want peace.
Conceived in the regal senate halls of Romulus and forged in the dilithium mines of Remus comes a nemesis bent on destroying Picard and the Federation … in exactly that order.
Ordered by the Starfleet to be the first line of diplomacy in ushering in a new era for the Federation, the crew of the USS Enterprise-E is dispatched to Romulus for an unexpected peace mission. Once in the shadow of the Romulan Empire, Captain Jean-Luc Picard and the Enterprise crew are thrust into the center of a plot that could lead to the destruction of the Earth at the hands of a new and chilling nemesis.
When it comes to STAR TREK music, Jerry Goldsmith rules the galaxy. The epic tale of NEMESIS has inspired what may be Goldsmith's greatest STAR TREK score since his best-selling STAR TREK: THE MOTION PICTURE. The score for NEMESIS is as epic as anything the legendary composer has ever written. Even the musicians themselves gave Goldsmith repeated ovations during the recording sessions and a triumphant round of applause on completion. This is unquestionably the most aggressive STAR TREK score ever. Ingeniously dark textures are mixed with action music that soars to apocalyptic heights. Classic Goldsmith!
Track Listing: 1. Remus (1:58) 2. The Box (2:20) 3. My Right Arm (1:02) 4. Odds and Ends (4:37) 5. Repairs (6:26) 6. The Knife (3:09) 7. Ideals (2:15) 8. The Mirror (5:21) 9. The Scorpion (2:21) 10. Lateral Run (3:54) 11. Engage (2:12) 12. Final Flight (3:47) 13. A New Friend (2:36) 14. A New Ending (6:08)
Discuss this film on our Message Boards or respond to this article.