Book Review: Sleaze Creatures
By Kelly Hoffman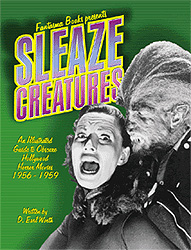 Like many members of my generation I grew up up watching classic science fiction and horror films Saturday afternoons on such television shows as Creature Double Feature and Shock Theater, which has lead to a life long love of the B-Movies from the fifties. And with today's technology I get to see them in such clarity that put my UHF memories to shame.
Now Fantasma Books brings the perfect companion piece to lovers of the genre, Sleaze Creatures: An Illustrated Guide to Obscure Hollywood Horror Movies From 1956 to 1959, written by D. Earl Worth. And at just under $23 retail this book is worth every penny.
Everyone of the 256 pages are packed full of information from some of the best known films (I Was A Teenage Werewolf) to some of the worst films ever produced (Attack of the Giant Leeches). This volume covers fifty films with cast and crew filmographies, production histories, detailed synopsis and trivia for each of the films covered. Plus there are 150 black-and-white photographs, production stills and original movie posters throughout the entire text.
Any fan of the B-Movies would absolutely treasure this book. The only thing that could possibly make it better is having the films to watch after reading all about them. And thanks to many fine video and DVD companies you they are available to you.
Perhaps the only thing that has been more interesting and more informative than this book was my visit to Forrest J Ackerman's house.
---
AMC TV and X-Plus have teamed up to bring you three great monster action figures based on some of the films listed in the Sleaze Creatures. You should be able to find the in specialty shops soon or order them directly from X-Plus.
---
Visit: www.fantasmabooks.com | www.filmfax.com | www.bmonster.com
---
Star Your Video Collection Today!
---
Discuss this on our Message Boards or respond to this article.