New Editions of Three Authorized Sequels to E.E. "Doc" Smith's LENSMEN series now available from Red Jacket Press
The Dragon Lensmen, Lensman From Rigel, and Z-Lensman reissued.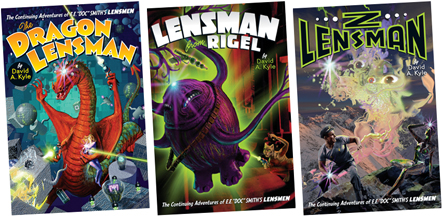 Red Jacket Press is pleased to announce new editions of three fully-authorized sequels to E.E. "Doc" Smith's LENSMEN series: The Dragon Lensman, Lensman From Rigel and Z-Lensman, written by David A. Kyle.
Originally published in paperback by Bantam Books in the early 1980s and long since out of print, each book is a complete and unabridged reprint of the original novel, and features new cover art and interior illustrations by Hugo Award-winning artist Ron Miller, and a new introduction by the Author. These new editions are now available direct from the publisher.
E. E. "Doc" Smith's Lensmen series is widely regarded as one of the greatest, most imaginative science fiction sagas ever written. The incredible exploits of these elite guardians of the galactic empire have thrilled and inspired generations of readers. David A. Kyle, a friend and confidant of Smith, was authorized by his estate to continue their astonishing adventures with three novels featuring the alien Second-Stage Lensmen.
"Not only [has] Dave captured the style of a Doc Smith epic, not only [has] he blended his own concepts into the Lensmen series, but he [has] also written a first rate Science Fiction novel, fully able to stand on its own merits" wrote Lloyd Eshbach, publisher of the original Fantasy Press Lensmen books, in his introduction to The Dragon Lensman. "Were he able to read it, Doc, I'm sure, would be pleased. In The Dragon Lensman through David A. Kyle, E. E. Smith has returned to literary life!"
The Dragon Lensman, Lensman From Rigel and Z-Lensman are each available in paperback, priced at $15.95. Each book is also be available in hardcover, but offered exclusively as part of a limited edition of 250 sets, packaged in a deluxe foil-stamped slipcase, with each enclosed book individually numbered and signed by the author on a special bound-in plate; these sets will be priced at $150.00 and available on a first-come, first-served basis. Both versions are now available for order from the publisher at http://www.redjacketpress.com/
---
David A. Kyle's experience in Science Fiction dates back to the "Golden Age" of the early 1930s. An active force in both the earliest and present-day worlds of Science Fiction fandom, he began publishing fanzines as a teenager, and he participated in the first science fiction convention in Philadelphia in 1936. He attended the first World Science Fiction Convention in New York in 1939, and went on to chair the 14th Worldcon in 1956, and was Worldcon Fan Guest of Honor in 1983.
His professional career in the field spans six decades; beginning as a writer and illustrator for pulp magazines, then as publisher, anthologist, illustrator, book designer, editor, and literary agent. In 1947 he co-founded Gnome Press, the imprint that pioneered the first hardcover editions of works by such authors as Isaac Asimov, Sir Arthur C. Clarke, and Robert Howard.
He has collected an array of honors, among them First Fandom's Science Fiction Hall of Fame; a special award from the British Science Fiction Association; and an award for Outstanding Achievement from The International Society of Science Fiction, Horror and Fantasy. He has been chosen by Starlog as one of The 100 Most Important People in Science Fiction and Fantasy.
His works include the award-winning A Pictorial History of Science Fiction and The Illustrated Book of Science Fiction Ideas and Dreams. [taken from http://www.redjacketpress.com/]

---
Discuss this film on our Message Boards or respond to this article.