Review: Island Life
By The SciFi Slacker (aka Kelly Hoffman)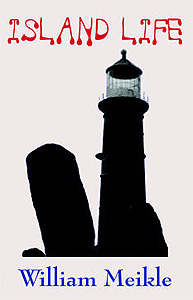 Island Life
By William Meikle
Published by Barclay Books
Retail: $15.95
ISBN: 1-931402-20-5
Do not let the pink cover fool you. This book is frightening and it can have you conjuring up all sorts of images in your head.
Island Life by William Meikle is a Scottish tale of terror that hooks the reader from the very beginning and reels them in further with each ensuing chapter.
Follow the local inhabitants of a small island off the coast of Scotland through their worst nightmares as an ancient evil is awakened and it wants revenge.
Meikle masterfully tells his tale of ancient religion, current folklore and a modern horror, which is hard to tear yourself away from.
The story revolves around Duncun who has returned to the island to continue his research from the previous year. A budding romance between Duncan and the local pub owners daughter Meg could be in jeopardy if the horror that the old Lighthouse keeper Tom believes in is true.
What kind of animal has been killing off John's sheep? And what have the archeology students uncovered in their dig up by the old mansion? Learn all the dark secrets that lie beneath that mysterious mound and why Tom was against that dig in the first place.
There truly are more monsters in Scotland than just those in Loch Ness. Meikle's monsters are not something one would wish to go hunting especially if all you were armed with was a camera. One would certainly want more protection than that, much more. Meikle's descriptions of these unholy beings from another time bring up images of aliens, Golum and the Creature from the Black Lagoon (some of which he even uses as comparison within the book itself).
Americans may find some of the terms and phrases to be unknown to them, but this reviewer felt they added more to the realism of the setting of a Scottish Island and welcomed the unfamiliar terms.
Be forewarned as your imagination grips you and you are swept out to sea in the terrifying tale of ancient and unspeakable evil.
---
Discuss this on our Message Boards.
New Members Please Register | Returning Members Enter