First Wave: Heart of a Killer #2
by Kelly Hoffman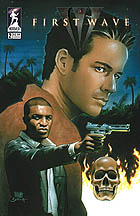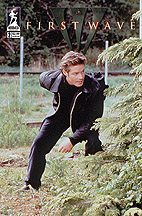 First Wave: Heart Of A Killer #2
Written by James Anthony Kuhoric
Pencils & Inks by Dan Parson
Colors by Michael Malbrough
Letterer Mark L. Haynes
Cover painting by Matt Busch
After waiting quite awhile for the conclusion of Andromeda Entertainment's First Wave Heart of a Killer story it has finally hit the comic book store shelves.
I don't know of about the rest of you but I hate waiting to find out the end of a story, especially this long. But after re-reading Heart of a Killer #1 before reading part 2 it was certainly well worth the wait.
The creative heads at Andromeda Entrtainment have put together a great story. This book again features two covers. A photo cover featuring Cade Foster and another outstanding painted cover by Matt Busch.
In Heart of a Killer #1 Cade Foster infiltrates the press to work his way into Rikers Island to talk to a prisoner who he thinks might be Gua. After getting to see the prisoner Cade's suspicions prove to be correct. Then his cover is blown and he captured and kept in th prison.
The second part of Heart of a Killer picks right up with Cade in prison and his only ally is the enemy. Can he trust this Gua? Will Eddy be able to help Cade escape from prison? Find out now in part two.
Don't worry if you are not a fan of the show or haven't even seen it before this storyline stands on its own.
Click here to keep up to date on Andromeda Entertainment.