Review of The Comic First Wave: Heart of A Killer #1
by Kelly Hoffman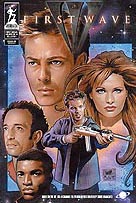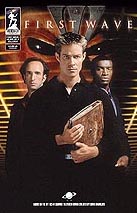 First Wave: Heart of a Killer #1
by James Anthony Kuhoric
published by Andromeda Entertainment
ISBN:
retail: $2.99
Andromeda Entertainment certainly started off with a bang. With their initial installment for their first comic based on the SCIFI Channel's hit TV series, First Wave.
Andromeda has delivered a story suited to the series with the same feel and action of that show.
Heart of a Killer takes Cade Foster into a prison on his quest to stop the first wave and the invasion of the gua. Will he succeed of will he be caught and imprisoned himself?
This is the first of a two part story and this book leaves you wanting more. Who can wait a month to find out what happens?
The painted cover art is by Matt Busch, who is probably best known for his work on Star Wars (comics, books and games), but he has also made creative contributions to The Matrix and Home Alone 3 just to name a few. Check out his website at http://www.mattbusch.com.
This first comic from Andromeda has two different covers, a painted one and a photographic version. Two different covers one great story. Collectors will have to have both.
Good story and decent artwork the slacker gives it a 9 (not a ten 'cause I don't know the end of the story yet...I just hate to be continueds.
www.andromeda-entertainment.com