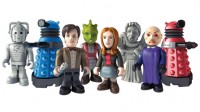 No word as to whether or not they will work with popular constructions sets like LEGO or MegaBloks, but one can dream.
Major building project for Doctor Who! A new construction toy range has just been unveiled by toy company Character Options that will see the Doctor, Amy Pond and many of their enemies quite literally taken to pieces!
The first products in the exciting Character Building range will be released in time for Easter 2011 with unique new figures and playsets featuring the Doctor and other characters from the hit BBC One show. This will be the first time ever that the Time Lord has been depicted as a construction toy.
This new brick based collection includes 3D micro-figures that are brought to life with sculpted facial features making the Doctor played by Matt Smith and Amy Pond played by Karen Gillan instantly recognisable.
Matt Smith and Karen Gillan have already had first sight of their new miniature alter egos. Matt Smith said: "It was very surreal and funny coming face to face with a miniature version of myself as the Doctor but I'm glad that the Doctor's trusty Sonic Screwdriver is in his hand, ready to fend off attacks from monsters!"

Karen Gillan added:"I absolutely love these miniature toys of the Doctor and Amy Pond despite the strange sensation of seeing myself immortalised in plastic and miniature and buildable…and dissectible. I'm loving Pond's flaming ginger mane and it's funny to think that The Doctor and Amy are small enough to travel around in someone's pocket!"

Jon Diver, Character Group's Joint Managing Director, commented: "This new project represents a major investment for us and we are delighted to be increasing our Doctor Who Portfolio. In doing so we will also be supplying a new option to the child constructor who will now have the choice of a construction toy that has all the excitement and appeal that Doctor Who brings with it."

Richard Hollis, Head of UK Licensing at BBC Worldwide said: "We are delighted to build on our existing relationship with Character Options. We've worked successfully with them in the past and the quality and imagination they put into their toys is outstanding. This new venture offers the perfect play pattern for Doctor Who fans and opens up a fascinating and innovative genre. We believe that this is a fantastic new project and we're really excited to see how popular these toys will become".
In addition to the Doctor Who construction range, Character Building will also incorporate other key licenses.
via GeekTyrant