I just signed up to take a class at the University of California, Irvine. It's Free. It's online. Wait it gets better. It centers around The Walking Dead TV show!
That's right I get to watch TV and then use it to learn something. Pretty cool. I am already watching it so I might as well learn something too.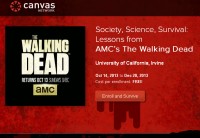 The class runs from October 14 to December 20, 2013.
Sign up here: https://www.canvas.net/courses/the-walking-dead
Course description
From understanding social identities to modeling the spread of disease, this eight-week course will span key science and survival themes using AMC's The Walking Dead as its basis. Four faculty members from the University of California, Irvine will take you on an inter-disciplinary academic journey deep into the world of AMC's The Walking Dead.
Or if you just want more info check out these articles on the class.