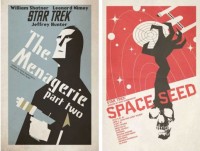 PALEY CENTER FOR MEDIA PRESENTS 
 STAR TREK: THE ART OF JUAN ORTIZ 
SPECIAL GALLERY EXHIBIT NOVEMBER TO JANUARY IN BEVERLY HILLS 
Official Los Angeles Opening Wednesday, November 20 
WHAT:
The Paley Center for Media is partnering with CBS Consumer Products to present the Los Angeles premiere gallery exhibition of 
Star Trek: the Art of Juan Ortiz.
Star Trek: The Original Series
 occupies a rarefied place in popular culture and continues to be a force in all facets of media. Artist Juan Ortiz's groundbreaking effort to personify each of the series' 80 episodes, and the original pilot, through a collection of original art posters embodies his passion for the series, the transformational Sixties, and the often visceral reaction generated by each episode.
Artist Juan Ortiz will be present for a book signing at the press preview reception on Monday, November 18.
The exhibit will open to the public Wednesday, November 20, 2013 and close January 5, 2014. 
WHO: 
Juan Ortiz, artist
WHEN:
November 20, 2013 thru January 5, 2014
WHERE:
The Paley Center for Media 
465 N. Beverly Drive, Beverly Hills, CA 90210
---
About The Paley Center for Media: 
The Paley Center for Media seeks to preserve the past, illuminate the present, and envision the future through the lens of media. With the nation's foremost public archive of television, radio, and Internet programming, the Paley Center produces programs and forums for the public, industry professionals, thought leaders, and the creative community to explore the evolving ways in which we create, consume, and share news and entertainment. In an era of unprecedented change, the Paley Center advances the understanding of media and its impact on our lives. The Paley Center for Media was founded in 1975 by William S. Paley, a pioneering innovator in the industry. For more information, please visit www.paleycenter.org. 
TM and © 2013 CBS Studios Inc. STAR TREK and related marks are trademarks of CBS Studios Inc. All Rights Reserved.