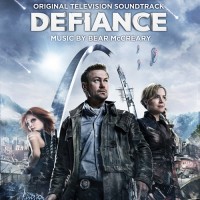 Sparks & Shadows, a new boutique record label founded by composer Bear McCreary, announces the release of the Defiance Original Television Soundtrack. The album, containing 22 tracks of original score, original songs and cover songs as heard in the first season of Defiance, will be available through all digital providers on June 17th.
Defiance gave McCreary the opportunity to write not only the underscore for the show but also songs for the multiple alien races. "Scoring a project like Defiance is a rare situation for a composer," said McCreary. "I was asked to help bring the alien cultures to life by developing a distinct musical heritage for each. I fashioned Votan instrumentation and lyrics into a variety of popular songs and ceremonial pieces. I wrote pieces for street musicians that float through open-air marketplaces. I produced alien classical music, jingles, jazz, rock-anthems and torch songs."
To perform these songs, McCreary called on collaborators that Syfy fans are sure to remember, vocalists Raya Yarbrough and Brendan McCreary, both of whom have worked with Bear on a number of series dating back to the Battlestar Galactica years. Bear also teamed with the band Young Beautiful in a Hurry (fronted by Brendan McCreary), for whom he directed the video "Don't Stop Me Now."
In the year 2046, it's a new Earth – with new rules. Over thirty years after various alien races arrived on Earth, the landscape is completely altered, terraformed nearly beyond recognition. To the town of Defiance, on what used to be St. Louis, comes the mysterious Nolan (Grant Bowler) and his charge, Irisa (Stephanie Leonidas). As they settle into town – overseen by the mayor, Amanda Rosewater (Julie Benz) and filled with residents like the powerful Rafe McCawley (Graham Greene), enterprising lounge owner Kenya (Mia Kirshner) and the ambitious, alien Tarrs (Tony Curran and Jaime Murray) – events begin to unfold that threaten the fragile peace this border town has fought for. The series is executive produced by Kevin Murphy (Desperate Housewives, Caprica, Hellcats), who also serves as showrunner, Michael Taylor (Battlestar Galactica) and Rockne O'Bannon (Farscape). Scott Stewart (Legion, Priest) directed the pilot; Michael Nankin serves as supervising producer/director on the series. Defiance is produced by Universal Cable Productions.
As the events of Defiance unfold weekly on your TV screen, you can see how the residents' struggles impact the game of Defiance, a high-octane, multi-platform experience from Trion Worlds! For the first time in history, a TV show and a game will exist concurrently in a shared universe, influencing and impacting the other!
"The town of Defiance is a melting pot," McCreary described. "This new, terraformed Earth is an alien world to everyone, including the humans. No one is native, and several generations of Votan have been born and raised on Earth, making them literally Earthlings."
McCreary continued, "The producers and I wanted to represent this idea with the music by merging Votan music with our own. In the pilot, I firmly establish the sounds of Castithan and Irathient popular music, but in future episodes you will begin to hear this style merge with contemporary popular songs."
Track Listing
1. Defiance Main Title
2. The Ritual of Perpetual Motion (feat. Raya Yarbrough)
3. Flirting with Disaster (Young Beautiful in a Hurry)
4. Before the Votans
5. Welcome to Defiance
6. Terraform My Heart (feat. Brendan McCreary)
7. Baby Blue (Young Beautiful in a Hurry)
8. Castithan Bath
9. Ooh Child (Raya Yarbrough)
10. Lost to the River (feat. Brendan McCreary)
11. Outside Over There (Young Beautiful in a Hurry)
12. Worth Dying For
13. Concerto for Insects
14. Time After Time (feat. Raya Yarbrough)
15. Besásh (feat. Raya Yarbrough and Brendan McCreary)
16. Kalagyi Anaila Kaziri
17. Courage Under Fire (Young Beautiful in a Hurry)
18. Battle of the Volge
19. Nolan and Irisa Reunite
20. Castithan Wedding Song (feat. Raya Yarbrough)
21. Lawkeeper
22. Gone Again (feat. Brendan McCreary)
WIRED Magazine called Bear McCreary a "Secret Weapon" in a recent issue. His unique combination of atypical instrumental background (he is a professional accordionist) with rigorous classical training prepared him to compose for disparate genres. By the age of 24, McCreary was launched into pop culture history with his groundbreaking score to Syfy's hit series Battlestar Galactica, for which he composed "the most innovative music on TV today" (Variety). It "fits the action so perfectly, it's almost devastating: a sci-fi score like no other" (NPR). Io9.com declared Bear McCreary one of the Ten Best Science Fiction Composers of all time, listing him alongside legends John Williams, Jerry Goldsmith and Bernard Herrmann.
McCreary continues to write for the television show The Walking Dead. Recently he lent his talents to the STARZ/BBC joint production Da Vinci's Demons. His upcoming film projects include Europa Report, which will premiere at the Los Angeles Film Festival in June, and Knights of Badassdom. His other credits include critically acclaimed scores for series such as Terminator: The Sarah Connor Chronicles, Eureka and The Cape. His swashbuckling score for Human Target featured the largest orchestra ever assembled in the history of series television and earned him his first Emmy nomination. His videogame credits include SOCOM 4 and Dark Void.
Syfy presents Defiance, airing Monday nights. Defiance Original Television Soundtrack, composed by Bear McCreary will be available through all major digital providers on June 17th.
Other releases from Sparks & Shadows include McCreary's soundtracks for the MMO shooter game Defiance (Trion Worlds), and the series Da Vinci's Demons. This summer, the label will also release McCreary's score for the feature film Europa Report (Magnet), a science fiction thriller that explores the first manned mission to Jupiter's mysterious moon, Europa.
 Related Sites
Related Articles
---