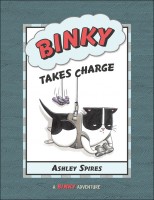 Some times you just have to have a little fun and read a good kids book (even when no kids are around). [amazon_link id="1554537681″ target="_blank" ]Binky Takes Charge[/amazon_link] is just such a book. It is a cute comic book style book about a space cat named Binky. Binky's is tasked with training the newest cadet in F.U.R.S.T. (Feline of the Universe Ready for Space Travel). But can he train this new cadet? Or is this cadet working for the aliens (aliens are bugs…what cat doesn't love to chase and thwok aliens….er bugs)?
Publisher's Book Description: 
The book is written and illustrated (very nicely we might add) by Ashley Spires. It is published by Kids Can Press and they recommend the book for kids 7 to 10. We say it is perfect for kids of ANY age (read it to younger kids, have older kids read it themselves, adult scifi geek cat owners will like it too).
Binky Takes Charge is the fourth book in the Binky Adventure series. We look forward to reading the first three books.
[amazon_link id="1554534194″ target="_blank" ]Binky Space Cat[/amazon_link]
[amazon_link id="1554535972″ target="_blank" ]Binky to the Rescue[/amazon_link]
[amazon_link id="1554537673″ target="_blank" ]Binky Under Pressure[/amazon_link]
How in the world did we ever miss these books? just glad we discovered them now so we could share them with you.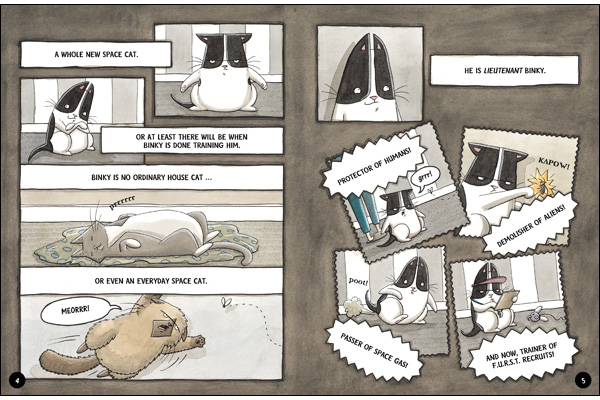 We just love that Binky is the passer of space gas.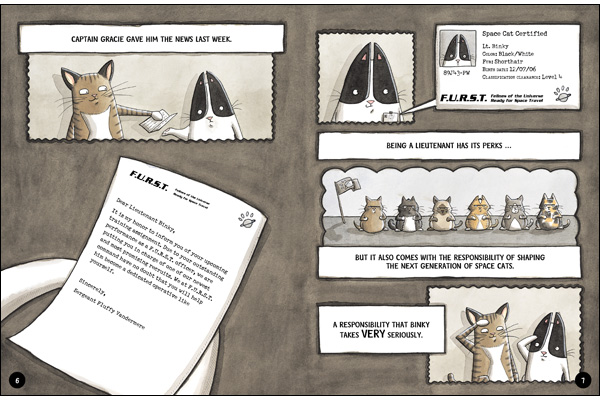 This book is fun and we give it a four paw salute. Keep the Binky books coming.
We might be picking up a few of these to donate to Toys for Tots this year too. Let us know if you do too.