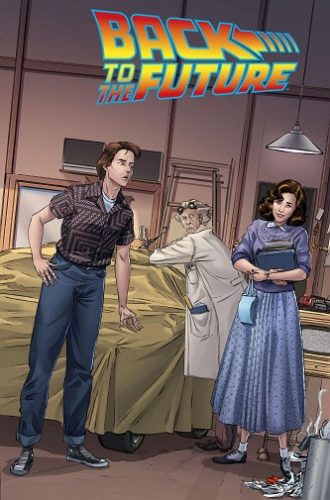 Extremely Limited Version Available While Supplies Last; Michael J. Fox Appears June 4, Lea Thompson To Attend June 5, Christopher Lloyd Lloyd June 3-5
Fans of the blockbuster franchise Back to the Future have been abuzz about the upcoming rare triple appearance of stars Michael J. Fox, Lea Thompson and Christopher Lloyd at Wizard World Philadelphia. As an extra bonus, fans purchasing any of the Michael J. Fox VIP packages at the comic con and gaming event, set for June 2-5 at the Pennsylvania Convention Center, will receive a limited edition exclusive variant cover edition of the "Back to the Future #1" comic drawn by superstar artist Luis Antonio Delgado at registration, while supplies last.
Wizard World, Inc. (OTCBB: WIZD) announced in January that Fox will appear at the event on Saturday, June 4; Thompson is scheduled for Saturday and Sunday, June 4-5, and Lloyd will attend Friday through Sunday, June 3-5.
Delgado, a noted colorist known for his work on the "Ghostbusters" series as well as "Back to the Future," Don Pendleton's "The Executioner," "Duke Nukem" and other popular works, is a native of Mexico City. He will be on hand in Artist Alley at Wizard World Philadelphia to sign copies of his work (fees may apply).
In "Untold Tales and Alternate Timelines," Part 1: Back to the Future creator/screenwriter Bob Gale returns with all-new tales from the twisting and turning timeline that made Back to the Future a, well… timeless pop-culture phenomenon! Take a trip back to 1985 and be there when Doc Brown and Marty McFly first meet, and then jump even farther back, to 1945, to witness Doc's involvement in the super-secret Manhattan Project!
Wizard World comic con and gaming events bring together thousands of fans of all ages to celebrate the best in pop-fi, pop culture, movies, graphic novels, cosplay, comics, television, sci-fi, toys, video gaming, gaming, original art, collectibles, contests and more. The tenth event currently scheduled on the 2016 Wizard World calendar, Philadelphia show hours are Thursday, June 2, 3-8 p.m.; Friday, June 3, noon-7 p.m.; Saturday, June 4, 10 a.m.-7 p.m.; Sunday, June 5, 10 a.m.-5 p.m.
More info: http://wizardworld.com/comiccon/philadelphia/mijfomamcbat.html